Most homes in London now cost over £500k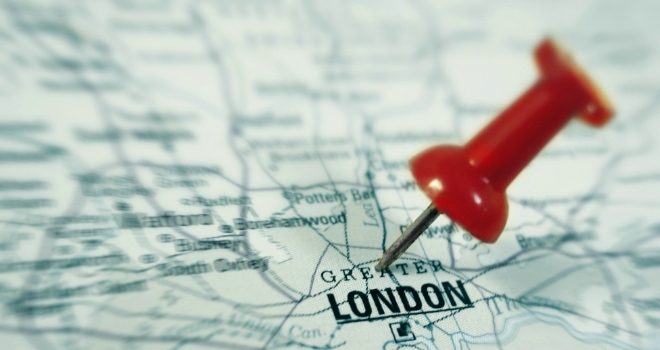 According to new analysis from Stirling Ackroyd, property prices reaching beyond half a million pounds have now spread to the majority of London neighbourhoods.
Average home prices across the whole of Greater London have already reached £540,200 as of Q3 2015, up 1.6% compared with Q2 – or an annualised growth rate of 6.6% across the capital.
But most relevant for individuals and communities, the local phenomenon of homes worth over half a million pounds (the 'half a million zone') has now spread to the majority of individual postcodes.
Out of 279 postcode districts falling within Greater London, 142 are now home to local property prices averaging at least £500,000. As such, the 'half a million zone' now represents 51% of the UK capital.
Across England & Wales there are a total of 157 postcode districts with average property values above half a million pounds – of which a staggering 142 lie within Greater London.
This means that, while the majority of Greater London (51%) now has property prices averaging above half a million pounds, the same is true for less than 1% of the rest of England & Wales (excluding London) – where 99.4% of postcode districts have average property values under half a million pounds.
Andrew Bridges, managing director of Stirling Ackroyd, comments, "London is increasingly another country. Within these borders, more and more territory is being claimed by home values only dreamed of by sellers in the past. Meanwhile, for buyers and for businesses – the wave is building outwards and eastwards.
Sweeping house price averages have long been skewed by a minority of traditional super-expensive streets – but now the cost of a London home is rising more broadly. Average values for England or the UK may as well measure house prices in Peru – locally irrelevant when describing the fundamentally different and hugely complex London market.
They say the past is another country too – and that is definitely the case in the capital. Gone are the days of the traditional prejudices about certain postcodes. London is more diverse than ever, but the boundaries are shifting and blurring. Lawyers and bankers are just as likely to live in Hackney as they are to choose Fulham, while the offices of law firms and financial services start-ups are found as frequently in Shoreditch or the Southbank as they are in the City."
Mile End, Peckham & Streatham break half million boundary
Equally significant, this growth now brings many potentially surprising and unexpected locations into the half a million zone – such as Mile End, Peckham and Streatham.
New half-million pound postcode districts include the East End's E1, synonymous with Brick Lane curry houses, the Kray twins and Jack the Ripper. But now, covering the area between Whitechapel, Mile End tube station, Limehouse and Tower Hill, the E1 postal district has joined London's 'half a million zone', with an average property value of £501,900 as of Q3 2015.
This is up 2.5% compared to the previous quarter when prices in E1 previously stood at £489,800.
Homes in nearby Wapping and St Katherine's Docks, with their own 'E1W' postcodes, have seen a similar trend, also breaking through half a million pounds for the first time and averaging £501,700 as of Q3.
South of the river, the SE15 district, covering Peckham, also joins the territory of half-million-plus London. Average property prices in SE15 have reached £503,000 as of Q3 2015, after rising 3.0% from £488,300 in the previous quarter.
Such areas join more traditionally affluent postcodes in the half-million plus club, such as Mill Hill in NW7 with average property prices of £505,800 –and Weybridge on the border with Surrey where the average KT13 home is now worth £504,500.
Bermondsey bargains, Deptford deals
Despite the parity between many once undesirable areas and their more traditional house-price-counterparts, the growth of London's half million pound property market remains asymmetrical.
Compared to their geographic centrality, taken as the distance from the traditional centre of London in Charing Cross, a number of locations stand out as affordability hotspots.
Leading by this measure is SE16, taking in Bermondsey and Rotherhithe and with an average property value of £474,600, despite being less than three miles to the geographic centre of London.
Not to be confused with the neighbouring SE15 as mentioned above, SE16 is both closer to the centre of London and on the river, but relatively affordable compared to the once-unlikely price hotspot of Peckham further south and the more fashionable SE1 including the redeveloped Southbank to the west.
Second closest to the traditional centre of London, while hosting property prices under half a million pounds, is the SE14 postcode district. Covering New Cross and New Cross Gate Overground stations, and just north of Lewisham High Street, SE14 postcodes average just 3.7 miles to the official centre of town, while seeing average property prices of £445,100.
Third by this measure is E14, encompassing the Isle of Dogs, Limehouse and Poplar. While this district contains the even more local sub-market of Canary Wharf, it is also just four miles from London's official centre – while property prices in E14 still average below half a million at £449,800. This is despite a quarterly rate of house price growth of 3.3%.
Deptford represents the next best deal by this analysis, with SE8 postcodes stretching from the southern bank of the Thames opposite the isle of dogs towards Lewisham and the slightly pricier New Cross hub. Average values for a home with an SE8 address stand at £434,100. In turn, this is only marginally more than the average £434,000 for a home in E2.
Andrew Bridges continues: "Travel four miles west of the West End and you'll stand little chance as a first time buyer. But east of the cosier core of traditional London, there's a riverside corridor of relative affordability.
Properties along this route are now better connected than ever before – with new Overground connections still under-appreciated by other Londoners, an increasingly cycle-friendly road network, and the revolutionary impact of Crossrail imminent. Culture is shifting east too. Some attractions like the Whitechapel Art Gallery have been open for decades, but the economic and the cultural sides of regeneration are now accelerating. Even a few years ago the choice of coffee in Whitechapel was nothing on Shoreditch, but now the cafes and delicatessens might even give the famous curry houses of E1 a run for their money in terms of sheer variety."
Across the wider 'SE' postal area, property values average £449,500 while across all of east London's 'E' postcodes the average home costs just £434,000.
This means the East and South East postal areas are the only wide sections of the traditional 'inner' London postcode system where property values remain below half a million pounds.
By contrast, property prices across London's 'W' postcode area average over a million pounds at £1,246,600 while WC postcodes command an average residential value of £894,000 and leafier South West London homes are worth on average £882,000.
Even the third most affordable broad area of London after the East and South East, North London's 'N' postal area boasts an average home value of £583,000.
Business growth concentrates in more affordable areas of London
Greater London is home to 663,233 active businesses as of Q3 2015. This is an increase of 11,615 net new businesses created across the whole of Greater London, representing quarter-on-quarter growth of 1.8% since Q2 2015.
South East London saw the fastest net increase in the number of resident businesses, with 1,804 business starts choosing this area between Q2 and Q3 2015. Closely following suit was East London, with a net change of 1,770 new businesses opening up across the same period.
Andrew Bridges concludes: "East London may be seen as cultural, creative, exciting and even alternative – but rarely a serious business contender. All that is changing.
With the price of a home squeezing workers away from the old core of the city, the only way is east. A more modern feel and a relaxed atmosphere are attracting a fresh generation of businesses – and not just tech start-ups or coffee shops. There's just as much unlocked potential for the financial sector as there is for the food or creative industries. And possibilities will only keep growing as more firms update their websites with an 'E' or an 'SE' postcode."
Join our mailing list: