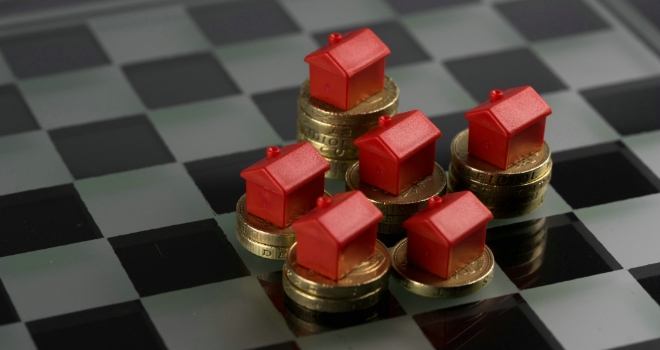 ""
New data from the latest Your Move Price index has revealed that on average, property prices jumped 0.8% (£2,277) on a monthly basis in February - double the rise seen in January and fueled by a surge in BTL investment as landlords rush to beat the tax changes due to hit in April.
The demand from landlords and second-home buyers contributed to the surge in homes sales, up 12% month-on-month with the strongest sales seen in Sandbanks, with property purchases in Poole up 21% year-on-year due to demand for luxury flats.
The data revealed that London house prices gained £36,903 (6.8%) in the past year, exceeding the average Londoner's £35,333 annual salary.

Hull's house prices up 0.9% in a month to hit new record of £111,409, boosted by new jobs and City of Culture status.
Richard Sexton, director of e.surv chartered surveyors, comments: "House prices flew forwards in February, with the average home value in England and Wales increasing 0.8% (£2,277) during the month, equal to an average increase of £79 each day. This is double the 0.4% monthly growth seen in January, which could be as a result of buy to let investors rushing to complete quickly to avoid April's additional 3% Stamp Duty surcharge, which has also seen sales shoot up 11.8% since January.
February's house price growth is fantastic news for homeowners, particularly those considering cashing in on the additional demand and making the most of this sellers' market. Typical property values are now £16,866 (6.2%) higher year-on-year; the fastest annual growth rate seen in eleven months, driven by the gulf in the number of aspiring home buyers, compared to the limited supply of homes for sale.
The East of England is outranking the capital with the fastest growing property prices of all regions, with a 7.2% uplift in the last twelve months. This pace is being fuelled by commuter towns, as London's workers search for more affordable housing.
The trend towards higher house price growth in cheaper areas can also be seen elsewhere. While house prices in Yorkshire and Humberside have remained flat on a monthly basis, property values in the City of Kingston upon Hull have hit a new record of £111,409, up 0.9% compared to the previous month, as the city has one of the lowest average home values in the country. The upswing in Hull's home values is due to the increase in new jobs resulting in more demand, with major firms including Samsung lifting employment in the city. Recently winning City of Culture 2017 may have provided an additional boost to demand for property within the city, as the pickup in tourism supports the local economy as a result of the award.
In London, house prices have climbed 6.8% year-on-year, to reach £582,783. This rapid escalation means that the typical home in the capital is now worth £36,903 more than twelve months ago, exceeding the Londoner's median gross annual earnings of £35,333. Most of this jump in house prices again occurred in more affordable areas, with property values in the cheapest third of London boroughs going up 14.5% in the last twelve months. Despite the upswing in the capital's overall property values, sales have slipped 4.6% in the three months November 2015 – January 2016, compared to the same three months one year earlier.
This is largely due to a lack of homes for sale combined with more caution at the top of the market, rather than a general decline in demand.
In fact due to the impending stamp duty hike, home sales have surged in February across England and Wales as a whole, with total home sales up 9.3% compared to the same month last year. The biggest boost in property purchases of any region has been in Poole, with a 21% upswing in sales. Luxury flats with views over Poole Harbour and Sandbanks have seen the biggest growth, as wealthy buyers seek to avoid the additional stamp duty surcharge which will apply to second-homes, as well as buy-to-lets.
Property prices have also risen as a result, up 11.6% over the year, as affluent buyers place a premium on luxury homes by the
sea."