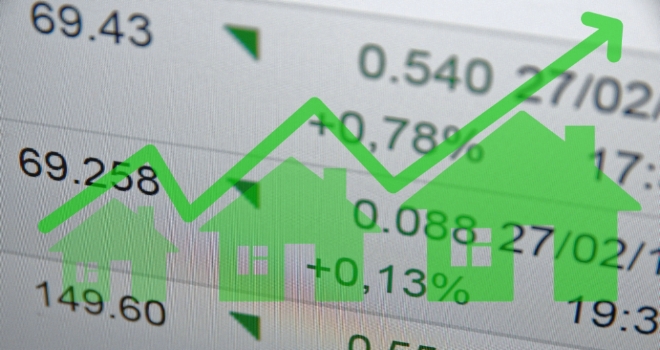 ""
According to new data from Land Registry, house prices across the UK are up 7.1% on the year with a 2.5% rise seen in the last month.
London experienced the greatest increase in its average property value over the last 12 months with a movement of 13.9%.
The North East saw the lowest annual price growth with an increase of 0.2% and also the most significant monthly price fall with a decrease of 1.6%.
The number of completed house sales in England and Wales fell by 2% to 72,167 compared with 73,282 in in November 2014.
Andrew Bridges, managing director of Stirling Ackroyd, comments: "Property prices are galloping out the stalls. But it's essentially a one-horse race in the house price stakes – and London is winning by several lengths.

Optimism and enthusiasm for an area are positive reasons for house price jumps. But as this race progresses, the going is getting tougher for first time buyers and anyone aiming to move towards the economic gravity of London and the South East. London has always been a city of mismatch – between unaffordable and affordable boroughs. But now higher prices are triumphing across a much wider area, and some buyers are left with fewer options – and less value for their money.

Supply of new homes is the fundamental issue. Hillingdon saw London's largest price growth – yet our own research shows Hillingdon council approved just 36% of potential new homes in 2015. New homes are the only way to maintain more sustainable price growth – and blinkered planning rules are getting in the way of London's future."
Andy Sommerville, Director of Search Acumen, said: "The latest figures are further evidence of a housing supply shortage. While prices continue to increase and properties sold for over a million pounds in England and Wales are on the rise over the year before, the number of property transactions has decreased. Families and retirees are choosing to stay in their homes for longer, holding on to properties that continue to increase in value.
London in particular is stressed to the limit, with outer boroughs like Hillingdon experiencing a 16% rise in annual prices and neighbouring areas like Reading and Luton becoming commuter favourites, increasing year on year by more than 15%.

But it's also buyers around the Northern Powerhouse cities that are feeling the pinch, with Knowsley, close to Liverpool, rising in price by as much as 9%. While it's all positive for those already on the property ladder, we're hoping the government is paying close attention to the growing unaffordability of family and first time buyer homes."
Stephen Smith, Director, Legal & General Housing Partnerships, commented: "Unsurprisingly, these figures highlight a significant annual house price increase across the UK. However, it is important to keep in mind that the housing market is extremely regional, with growth being driven in particular by London and the South East. Top line stats, therefore, are not necessarily representative of the whole country.
Whilst price inflation may vary, one factor that is common across the UK is the need for improved housing supply. The market is weighted heavily towards the demand side, which ultimately has ramifications for affordability for many want-to-be homeowners."
Rob Weaver, Director of Investments, Property Partner, said: "Just when you thought house prices had peaked, they continue to spiral upwards. As ever, the capital's unique property ecosystem continues to drive the market as a whole forward. On an annual basis, London is leagues ahead of most other regions in the UK. Only the South East can get anywhere near it.

As a country, we may be about to leave Europe, but in terms of house prices, London and the South East waved goodbye to the rest of the UK quite some time ago. The monthly growth seen in Wales once again underlines the inherent volatility of the UK's property market and shows why month-on-month trends need to be put into perspective.

With a large number of buy-to-let investors seeking to buy before the April stamp duty deadline, prices are likely to rise again in February and March. Supply and demand are already out of sync, but with the buy-to-let surge the disconnect will become even more extreme.

The hope is that the buy-to-let investors currently driving the market forwards understand the full impact of the tax hit further down the line. Our research shows that the gradual withdrawal of mortgage interest tax relief will render many portfolios around the UK unprofitable, all the more so if interest rates rise."
Jeremy Leaf, former RICS chairman and north London estate agent, said: "The decline in number of property transactions continues to be a worry. If people aren't able to move in and out of the market when they want to, there will be an inevitable knock-on effect for the rest of the economy. With the high cost of moving, continued shortage of supply and affordability issues with tougher mortgage criteria, this situation looks unlikely to change any time soon."