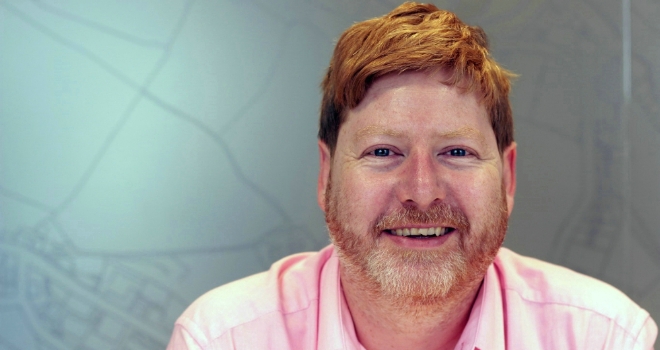 ""
We caught up with Paul Blewett, head of sales (Environment & Mapping) at Landmark Information Group.
1. How did you first get in to the property industry?
Before working at Landmark, I came from the consumer world of data where I led the global development of digital products for what was then Yell.com. Data has always been a fascination of mine, as has property, and so when the opportunity came up to work at Landmark, it combined two of my real interests.
Plus at the time I was in the process of moving house and so was receiving Landmark reports as part of the conveyancing process from my solicitor, so it was all very timely!
What really captured my attention about Landmark is the breadth of the company – our data, GIS, digital mapping and cloud-based workflow tools are used throughout the whole of the property industry for a huge range of needs, – so architects, surveyors, developers and agents, through to lenders, environmental consultants, conveyancers and more all interact with Landmark in some way.
2. What does Landmark Information Group do?
Landmark Information Group uses data and technology to help customers in the residential and commercial property industries streamline their operations and reduce risk.
Landmark has long-standing partnerships with customers in the mortgage lending, surveying and conveyancing markets, as well as in land acquisition, environmental consultancy, property development, estate agency and insurance.
Many people are aware of our branded services, such as Metropix for residential floor plans, GoView mapping, Promap digital mapping and data services, Quest for mortgage valuation reporting plus Envirocheck Analysis for environmental due diligence. Plus, they would have seen our various conveyance-ready legal reports, such as Homecheck, Riskview Residential or Plansearch, which are used by solicitors up and down the country. All are part of Landmark's extensive product and service portfolio.
3. What do you think are the key challenges that face estate agents and letting agents over the next 12 months? (surveyors too.)
For estate and lettings agents, the continuing challenge is always around supply and demand. The buy-to-let market is an interesting one to monitor right now due to the taxation changes that the Government plans to bring in next year; this could create some waves in the market as investors decide on their approach here.
Meanwhile there are the changes to Stamp Duty on second homes, which comes into force this April – whether that will create a pre-April surge will be interesting to monitor.
Also, with the Government extending the Right to Buy scheme, Help to Buy initiatives and the starter homes programme, you'd like to think this will help support the market as new entrants step on to the property ladder and enable others to move onwards and upwards.
4. What do you love about the property industry?
I love how it evolves – it's always changing – and it has great influence not only on my job, but in all of our home lives. The property market has become a hot topic at home as well as in the office as we all have a vested interest in somewhere – whether you're renting a property, own a home or are looking to move, improve or even build! Changes affect us all personally and everyone loves to talk about it – it's always a big topic of conversation at dinner parties as where you live and its impact affects us all.
5. How does Landmark Information Group differ from its competition?
Unlike others who operate in one market, Landmark reaches all facets of the property industry and is able to deliver software tools, data, mapping and value-added services to all walks of the property sector. If you need mapping or geospatial expertise, we have it. If you need points of interest location data, we have it. If you need environmental insights data, we have it. If you need conveyance-ready data or reports, we have it; plus much more on top and in between! This is then wrapped with the latest software, mobile tools and personalised customer support.
6. How do you think the property market will perform this year?
It's interesting as we receive feedback from clients in all walks of life and the big picture view from all is that the market is generally steady; developers, surveyors, agents and conveyancers are, generally, positive about the current outlook. One element of Landmark Information Group is Landmark Quest – it provides the technology that is the 'hub' between mortgage lenders and valuation surveyors – a majority of all mortgage valuation instructions are handled via the Quest systems. Looking at the number of valuation instructions handled in January versus the same month last year, our data tells us there has been an increase of almost 10%; this provides us with a good general indication of the current buoyancy of the market.