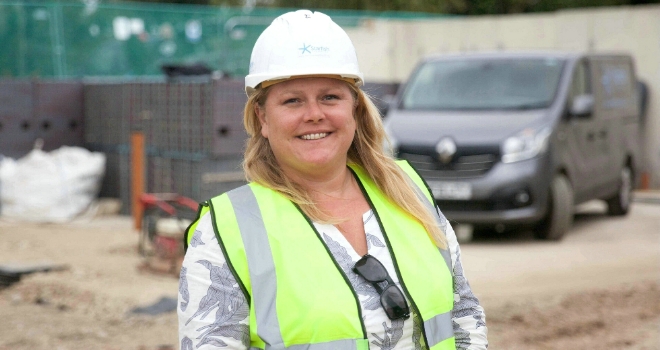 We caught up with Emily van Eyssen, MD of Starfish Properties
1. What got you into the property industry?
It started with a small windfall 20 years ago. I bought a small flat in Rye for £20k and then bought the next door one as a buy to let. I then sold both, moved to London and started buying, developing and selling there. During this period I have changed my business strategy many times to fit the financial climate and property market, where currently I see a huge opportunity with short term lettings.
Not only are we building stunning houses that can embrace this trend, they also enhance the local area.
2. How does the rental arm of your business differ from its competitors?
We do holiday lets, achieving a 98% occupancy rate and vastly increased income compared to AST (Assured Shorthold Tenancy) properties. All our homes are fully managed to a high standard, which there is great demand for at present – people are travelling differently and want to live like a local.
We need to adapt and embrace this sector, as post-Brexit, property needs to form part of a strong, vibrant and thriving UK tourism industry. We have done over 1000 bookings this year and hope to double this next year, while also taking on properties from other landlords who want to take advantage of the increased revenues and tax advantages of holiday lettings. The Winchelsea beach development we are working on should achieve a yield of 12%, which is unheard of in the south east.
3. What advice would you give to aspiring property developers?
When I started it was much easier and lending was simpler. Do your homework, get professional advice, from legal through to construction, and always budget for a large contingency – looking at worst case scenarios. If it still stacks up, then go for it.
Location is a key driver for me, I always ask myself would I live there – if the answer is no then don't buy it – and if it's too good to be true, then it generally is.
Above all, be prepared for stress and hard graft because it isn't as easy as it looks. For example, can you afford to cover the property not selling for six months? Sometimes, walking away from a deal is the smart option, although it might pain you at the time.
4. How do you think Brexit will affect business?
It is going to be brilliant for the holiday letting sector, in my opinion. The pound is low making England look like a bargain.
London property will generally always hold its value - it is a global city with global appeal. Outside of the capital, I have noticed a shortage of high quality property in rural areas, a good opportunity for the right developer as we are seeing an increasing number of buyers wanting to leave the rat race of London yet wanting to enjoy homes of a similar specification and quality that they are used to.
While Brexit has meant that it is now a more uncertain time to be building houses, there is still demand – people will always need to move. From a Governmental point of view, I would like to see eased conditions for smaller developers who bring a lot to our wider economy; relaxing the terrible Stamp Duty changes implemented by Osbourne would be a great start.
5. What are your predictions for the property market in 2017?
Prices will fluctuate but I don't foresee any major change. The days of overcooked prices have thankfully gone and realistically priced property will always sell, despite a possible reluctance from some people to move owing to political uncertainty.
As mentioned, I think people will wake up to the value and lifestyle that be had in rural areas. As an example, our Winchelsea beach development comprises three story three bedroom properties of 235 sq metres, by the sea and less than an hour from London – where you would struggle to purchase a one bedroom flat.
We may also see a return of foreign investors if the pound stays low.
6. What do you love and hate about your job?
I love my team and the excitement of turning a dump into something beautiful, there is a real sense of pride when you have put a tricky deal together and have come out the other side with a stand-out project.
I hate the lending climate and suppliers letting you down, along with Brexit and complex and clunky Stamp Duty rates. Alas, you can't have it all your own way in this business - the key is flexibility.