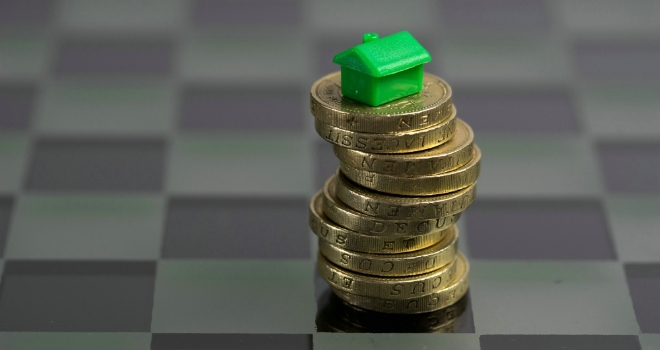 "It is increasingly clear that lenders are fighting harder to attract borrowers with larger deposits than those with small ones"
New data from AmTrust has revealed that although declining interest rates have resulted in home buyers saving more on their mortgage repayments compared to previous years, there remains a huge difference in the amount different buyers pay.
According to the report, those who are only able to save a small deposit (5%) – typically first time buyers – face monthly mortgage payments 36% higher than those who can save a 25% deposit, putting wealthy homebuyers such as those who can rely on parental assistance at a distinct advantage.
Homeowners with a 5% deposit pay an average of £762 in monthly repayments, £294 more than the £468 paid each month by those with 75% loan to value (LTV) mortgages.
Average interest rates continued to decrease throughout the second half of 2016 with both 75% and 95% LTV mortgages reaching new record lows of 1.42% and 3.66% respectively in November.
This means there remains a price differential of 2.24% between 75% and 95% LTV mortgages, accounting for the higher costs those with small deposits face.
While this is notably smaller than two years ago (3.19% in December 2014), the gap has been widening steadily since the start of 2016, when it was just 2.03% (January 2016). This is a worrying trend, which could see the gap increase further if lenders focus their attentions on lending to those with larger deposits now that the Help to Buy Mortgage Guarantee Scheme (HTB2) has ended and they are no longer encouraged to lend to those with small deposits.
Number of mortgage products for people with substantial deposits grows twice as fast as high LTV product numbers
The number of 95% loan to value (LTV) mortgages rose from 246 in December 2015 to 256 in December 2016 – an increase of just 4%. In contrast, the number of 75% LTV loans rose from 695 to 763 in the year to December, a 10% increase. That the number of 75% LTV mortgages rose more than twice as fast as 95% LTV mortgages is further evidence of the market being weighted in favour of those with larger deposits.
The 10% increase for 75% LTV mortgages is the largest increase for any LTV bracket and means those with larger deposits benefit from the greatest array of mortgage choice.
However, after the number of 95% LTV loans dropped in the wake of the vote to leave the EU – to 238 in August and September – this has now bounced back as confidence in the property market returns.The graph below illustrates a resurgence in the number of available products following a period of falling numbers from the start of 2016.
Simon Crone, Commercial Director, AmTrust International, Mortgage and Special Risks commented: "There is some positive news for first time buyers who have seen a slowdown in house price growth and improved affordability for mortgage repayments as a result of record low interest rates over the past year. However, many analysts and industry experts predict mortgage rates will rise this year, impacting affordability for first time buyers.
It is increasingly clear that lenders are fighting harder to attract borrowers with larger deposits than those with small ones. The number of available products, a widening price gap and lower repayments all mean those who can save larger amounts for a deposit benefit greatly when it comes to getting and paying for a mortgage.
This is particularly worrying following the vote to leave the EU, which is likely to see greater lender caution over the coming year, and the decision not to extend the Help to Buy Mortgage Guarantee scheme, which has now ended but helped more than 95,000 buyers onto the property ladder by providing access to 95% LTV loans.* Despite the availability of high LTV loans among many lenders now, and a number of former HTB2 scheme lenders recently announcing a continued commitment to providing 5% deposit loans, the real proof of the pudding will be in lender activity. It's our hope that lenders are not just paying lip service to high LTV lending, opting instead to focus their efforts on borrowers with large deposits.
It would be a huge shame if the positive steps taken by the industry and Government to improve lending to first-time buyers, after the calamitous collapse of high LTV lending in the wake of the financial crisis, was undone over the months ahead. This is a key period as lenders decide on their risk strategies in this sector now that support from the Help-to-Buy Mortgage Guarantee Scheme is no longer available. Most appear positive about their future commitment to high LTV lending and we hope the use of private mortgage insurance among lenders will be used to help mitigate risk while still encouraging lending to those with small deposits."